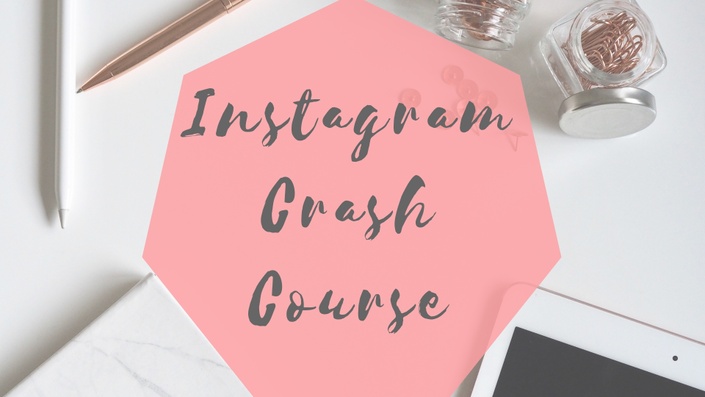 Instagram Crash Course
All the resources you need to find your ideal follower, grow an engaged and loyal audience and reap all the benefits this platform has to offer!
Enroll in Course
JUST IMAGINE THIS...
You wake up every morning to new followers that you can turn into clients!
You are scheduling in your time on Instagram, so you can hop on, post, engage for a few minutes and get back to your work, while still seeing increased engagement!
Your posts are getting the engagement they deserve and the sweetest most supportive comments from your followers!
Your followers slide into your DMs and ask you if you offer any services! (That's right, people actually ask YOU, instead of you reaching out to them!)
Your grid (you know, those first 9 images on your Instagram page) is beautiful and appealing to potential new followers, as well as your audience, so they keep coming back!
You finally figured out how to beat the new algorithm!
You don't spend another minute being frustrated with your account and its direction, because you have a clear plan of where you're going with it
We have good news: We created a bundle of our
best and most effective strategies
ALL COMBINED for the easiest access!
Introducing
The Instagram crash course by Carla Biesinger and Rini Frey
We collaborated and combined all of our strategies that helped us turn our Instagram accounts into successful businesses with the most loyal and supportive audience
BY SIGNING UP TO THIS BUNDLE YOU GET ACCESS TO

✓ Our Top 10 strategies to grow your FOLLOWING - these are the exact strategies we used to get to 10k followers in less than a year.

✓ Our 11 proven Instagram caption formulas, so you can write captivating captions that encourage CONVERSATIONS (and not just bot comments or emojis). Never worry about what to post again!

✓ The 3 strategies you MUST implement on a daily basis in order to skyrocket your engagement and BEAT the algorithm. *Hint: you can do them in just 15 minutes a day!

✓ A CHECKLIST for your daily to-do's, so you are focused on spending your time on Instagram more efficiently (and effectively).

✓ Our Instagram Theme Guide to help you create a beautiful THEME that sets your account apart from the rest.

This Instagram crash course contains everything you need to finally start seeing the results you deserve!


Are you tired of spending all day on Instagram without seeing any real results?

Are you spending hours on Instagram liking other peoples' content, commenting on hundreds of posts, following people in the hopes of getting a "follow back" - just to realize that every time you gain a new follower, you seem to lose 2...?

Is everyone out there playing the follow/unfollow game except for you?!

Not to mention the latest algorithm changes, which supposedly only expose your posts to about 10% of your followers!

You're not quite sure what it is - your visuals, your captions, your hashtags... Why is it that other people (whose posts aren't even as pretty as yours) get hundreds of likes and comments, yet whenever you share a new post you feel like you are shouting into a void?

Take a deep breath my friend, we have been there!

Frustrated.

Wondering whether we should just throw in the towel.

Thinking to ourselves "maybe this just isn't worth the effort".

But here's the thing: it doesn't have to be that way. You can grow your following, increase your engagement, and monetize your account without spending all day on the app - and we're going to show YOU exactly how.

You can finally take the overwhelm out of your Instagram strategy and simply copy what we've spent months and months perfecting.
No need to re-invent the wheel!
We did all the work for you and all you have to do is implement our strategies, so you can have the same results!
Your Instructor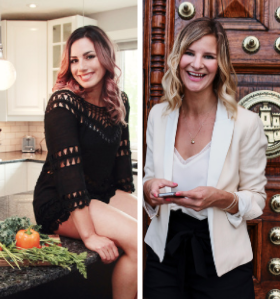 This course was specifically designed with you in mind, a busy entrepreneur or aspiring social media influencer, who is trying to manage their time efficiently and effectively. We started at 0 followers and managed to grow and monetize our accounts and we want to show you how!
Carla is an online marketing and startup consultant who specializes in working with women in the Food, Health & Fitness industry. Her mission is to empower women to believe in themselves and their unique skills, to create a business they love, and to grow their brand through the power of online marketing allowing them to reach a wider audience and to create more wealth in their lives.

Rini is an eating disorder recovery coach, social media influencer and blogger. She is working with women who want to find peace with food and their bodies and live a life free of rules and restrictions. Her mission is to help women embrace their bodies as they are and focus on what their bodies are capable of instead of what they look like, so they can take the wheel and finally take action in creating the life they always dreamed of.

Course Curriculum
Our Top Ten Tips on building the audience of your dreams
Available in days
days after you enroll
Increase your engagement
Available in days
days after you enroll
Frequently Asked Questions
How long do I have access to all the course material?
How about life-long access? We want you to always be able to come back to this content, when you need to get inspired. We might even tweak things and add content along the way, so you will always be up to date. You decide when you dive into the content and when you are finished with the material, it is completely self-paced!
Right now is a super busy time in my life. Should I still consider purchasing this course?
We know first hand how busy life can get, friend. We are putting on a special offer for you right now, so you can benefit from the material if you're on a budget. The content of this course will actually help you manage your time on Instagram more efficiently, so you don't have to spend too much time on there anymore. It might just make your life a little bit less busy :)
What if I am unhappy with the course?
We would never want you to be unhappy! If you have gone through the whole content, implemented all our strategies and saw no benefit at all, we are more than happy to give you a full refund. We believe in this material 100% and that is why we offer this option. We don't want your fear of disappointment hold you back from making this investment in yourself.
If you are ready for your Instagram account to finally get
the exposure and attention it deserves, don't wait any
longer!
Make use of this special offer today!